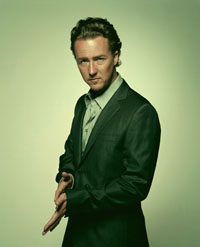 In this exclusive interview with IGN, Edward Norton said he'd be up for battling Christian Bale's Batman for director Christopher Nolan in the next Batman movie, which is scheduled to hit theaters on July 20, 2012.
Segueing from answering yet another Hulk question, Norton went in this direction:
"Chris Nolan's making the best ones out there by far," he explained. "I'd do one with him. He's set a new bar for sure, and I think he's done a great, great job."

We pushed Norton as to whether he'd be up for playing a villain in Batman 3, with the actor replying "That would be fun, I would not say no to that."

And more specifically we asked if he'd like to play the Riddler, with the star simply smiling and saying "Your guys can put their votes in on that."
Of course this ultimately means nothing — if you asked 90% of Hollywood if they'd like to be in a Christopher Nolan Batman movie, they'd say yes.
But I have to say, I love the idea. I still think Casey Affleck is my ideal Riddler candidate, and I think Norton would be a much better Zod in a Superman movie, but we can all dream, can't we? I'm glad Norton can, too.
And as for Batman news, this is the only link you'll ever need.