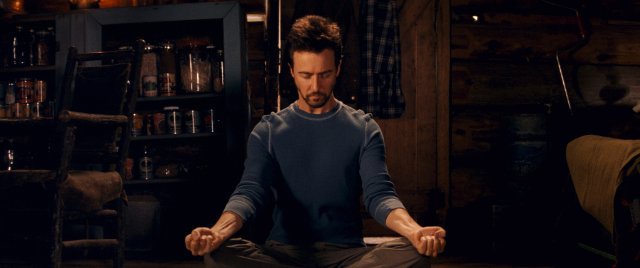 Edward Norton spoke to MTV recently and had more classy things to say about the fact that he's not returning as the Hulk in The Avengers.
Oh, Ed. I'm glad one of us is okay about this. More here:
MTV: Edward Norton explains the 'disingenuous' elements of his 'Incredible Hulk' exit
"I said what I had to say about that," said Norton, who was in town promoting "Stone," his new drama co-starring Milla Jovovich and Robert De Niro. "I didn't want to be negative about anything. I had a great time doing that. I was very happy to be part of it all."

"People's response to that film was great," he added. "That's everything you want. If you're going to do one of those, and be in those long traditions of those things we all grew up in, you don't want to be in one of the bad ones. So I'm really happy people had a good thing with that."

Given the very vocal back-and-forth about the move, Norton felt inclined to weigh in on the decision to bid adieu to Bruce Banner — and his understanding of why the entire ordeal unfolded it as it did.

"The thing that was disingenuous about some of the stuff that had gone on is it was a very professional and very respectful business situation," he said. "We really couldn't work it out on a business level, and I know that's disappointing to some people but it's nobody's fault."

"I don't have any disrespect for anybody's decisions in the business framework. You do what you feel you need to do on both sides, and that's totally fine," continued Norton. "I have no idea why anybody tried to characterize it as anything other than that kind of a decision, which is absolutely what it was."

In the end, Norton said he's moved on from the experience, and offered up his own perspective on the matter.

"My life's way too good on too many levels to be over-intense about things like that," he said.
And more here:
MTV: Edward Norton says he's 'been laughing about' Hulk casting with Mark Ruffalo
"Mark's one of my favorite actors and a very good pal of mine," said Norton. "We've already been laughing about it."

"John Curran, who directed 'Stone,' is a friend of ours — because we've both done movies with him," he added, joking that he and Mark are hoping for a chance to make an ensemble film starring all of the people who have played Marvel's green-skinned goliath.

"We could get Lou [Ferrigno], Eric [Bana], me and Ruffalo," he laughed.

Norton reiterated that, despite the tense public back-and-forth that occurred a few months ago, there's no ill will when it comes to his departure from the Marvel movie universe — especially when it comes to Ruffalo stepping in as his replacement.

"All good things," he said. "No… No bad feelings on that."
So if Edward Norton's cool, then I guess I'll try to be cool, too.
Thank you again, Edward, for your contribution to the Hulk mythology.
And so begins my coverage of Mark Ruffalo as the Hulk!
But it still burns me up.