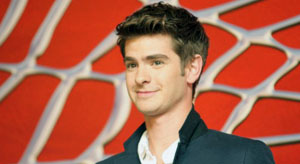 … and I wish him the best, even though I couldn't care less.
Read all about it here.
I loved the first two Spider-Man movies. Especially the second one.
Then the third one came along and … I can't even talk about it anymore.
But here's the review I did back in 2007. I don't own the first two on Blu-Ray because they're only available in a three-pack with the third one, and that piece of garbage isn't allowed in my home.
Anyway, when director Sam Raimi and Sony couldn't agree on the direction for a fourth film, Raimi and his cast (including Peter Parker himself, Tobey Maguire) were let go in favor of a total franchise reboot with new helmer Marc Webb (of (500) Days of Summer fame) in charge. The new film will reportedly take Peter back to high school and do everything all over again, with more emphasis on the teen angst stuff.
Eh.
After Spider-Man 3, there really wasn't much of anything they could have done to restore my interest in this character. Maybe this new movie will be awesome, and I hope it is, but I'll have to see and read a lot more about it before I can decide if I'm even excited.
In the meantime, best wishes and good luck to Mr. Garfield and his giant fucking hair.