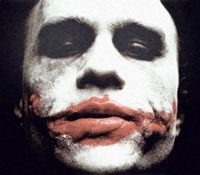 This is too awesome.
At first glance, The Joker has taken down his I Believe in Harvey Dent, Too website.
Or has he?
Open the page.
All you'll see is a black background with red letters that say, "Page not found."
But do a CTRL+A to "Select All" on the page and you'll see something else entirely.
Lots of laughing.
And some random letters …
… that …
… when strung together …
… say …
… "See you in December."
The movie opens July 18, 2008. Does that mean we'll be getting the first trailer for The Dark Knight in December?
Or does it mean something else entirely, something terribly sinister?
I hope Batman's around when we find out!
This is some of the most fun and exciting movie marketing ever.