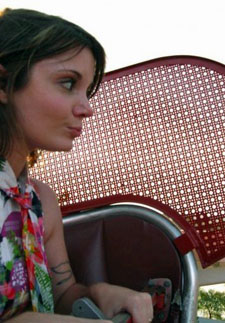 I knew that my lovely and talented cousin Alissa Nutting's debut collection of short stories, Unclean Jobs for Women and Girls, was on its way from Starcherone Books this year.
I can't wait.
What I seem to have regrettably missed, however, is that Starcherone featured Alissa not once but twice on its blog in August.
Click here and here to read all about the brilliant work she's got in the oven.
I'm so proud of you, Alissa! You've been a great friend and confidante (who listens and gives great advice over Mexican food), and I can't wait to see your wicked wits and ways with words splashed across printed pages.
I'll post more details about Unclean Jobs for Women and Girls, including its release date, as soon as I've got them.
And I'm sure I can arrange an interview with the author when the time comes.