Are you hungry?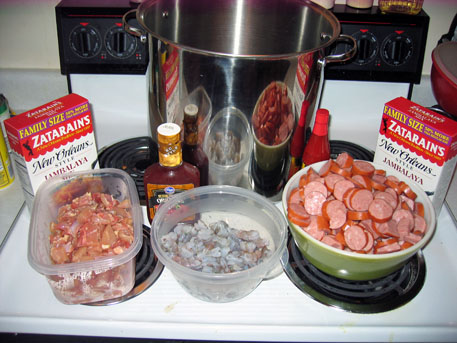 Every Tuesday, the Carsons (Melissa and Mike) and the Nevilles (Courtney and Bob and Oliver, the most curious and hilarious and wonderful kid in the world) and I alternate between cooking and hosting dinner for everyone else.
This week it's my turn … and the return of Johnbalaya, which is jambalaya made by me.
I begin with two family-sized boxes of Zatarain's jambalaya mix. Each box asks for 1.5 pounds of one meat — chicken, shrimp, or smoked sausage. Cooking two boxes, therefore, should require three pounds of one meat.
I find it almost adorable that Zatarain's is naive enough to find this adequate.
I'm using four pounds of smoked sausage …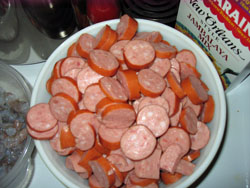 … and two pounds each of chicken and raw shrimp …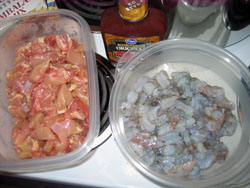 … that I just finished peeling away from their tails and shells.
That's eight pounds of meat for a recipe that only calls for three.
So sue me.
I'll cook the two boxes of jambalaya mix and the smoked sausage together from the beginning in a giant pot.
Separately from the giant pot and each other, I'll sautee the chicken and the shrimp in garlic and butter.
This will allow the rice to cook fully; once I'm satisfied with the rice and sausage, I'll slowly begin mixing in the chicken and shrimp.
I'll add a dollop of BBQ sauce for some extra flavor and offer a bottle of hot sauce on the side for anyone who'd like to give their bowl a little extra kick.
Drop by if you're in the neighborhood. Dinner's at 6, and we'll probably have enough.